Leela
Leela is a strong Go playing program combining advances in Go programming and further original research into a small, easy to use graphical interface.
It is freely available, making it an ideal introduction to the game.
Features
Strong Go engine including support for multiple processors and GPU acceleration
2008 Computer Olympiad Silver (9x9) and Bronze (19x19) medalist
Strength about 3~4 dan on 19 x 19, high dan level on 9 x 9
Featuring Deep Learning technology
Easy to use graphical interface
Adjustable board size (up to 37x37!), playing levels, handicap and komi
Fixed strength and time based difficulty levels
Chinese rules with positional superko
SGF format loading and saving
Rated game mode with auto-adjusting difficulty levels
Analysis mode with best variation and winning odds display
Download
FAQ
What's this Deep Learning technology?

Leela contains an AI technique modeled after the human visual system and brain, a deep stack of artificial neurons processing visual input with each layer combining the previous ones into higher level features (a so called DCNN, deep convolutional neural network). This "neural network" has been trained with more than 32 million positions from professional-level go games and taught to predict which moves a pro player would most likely consider. In 19x19 games the engine will query this deep "neural network" during the search to focus on the most critical variations. The result is a substantial raise in playing strength (about 6 stones), and a more human-like playstyle, while still allowing the engine to innovate of its own.

What's the benefit of GPU Acceleration?

A GPU is typically much faster than a normal processor at doing the kind of calculations the Deep Learning algorithms need. For example, an AMD R9 390 (mid-range videocard) can find the worthwhile moves in a Go position about 20 times faster than an Intel Core i5-6600 (mid-range CPU). Leela makes use of this to explore variations deeper and in more detail. You can notice that in analysis mode the critical variations displayed by the engine are much longer when GPU Acceleration is used.

What do I need to run the "GPU Accelerated" version?

You need a video card with OpenCL 1.1 (or later) capability. This is supported on all recent AMD and NVIDIA cards. Make sure the latest drivers for the video card are installed. The detected video card can be seen in the Help->About menu.

Can I run the "GPU Accelerated" version on the built-in graphics of my CPU?

This only makes sense if the built-in GPU is faster at doing the Deep Learning calculations than the CPU itself. Intel CPUs are typically very fast, with a weak built-in GPU, so this is not recommended. AMD APU's typically have a slow CPU but a fast GPU, so it would be worthwhile on those.
Screenshots
Playing a game, showing predicted territory.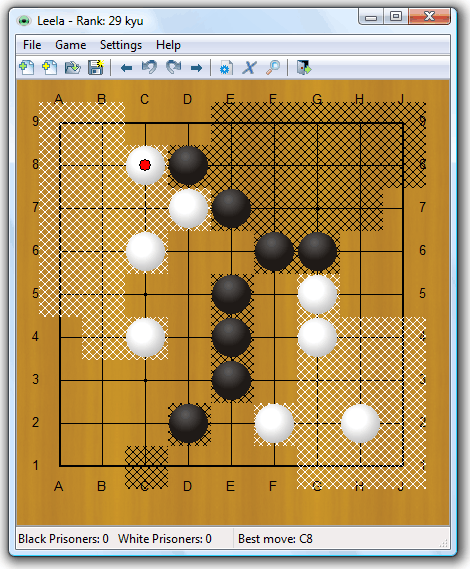 Changes
Leela 0.6.2 (2016-06-04)
Deep Learning DCNN for move pruning during search (+6 stones strength).
Added OpenCL version, running the DCNN on the GPU.
Reworked search algorithm for Deep Learning mode.
Leela 0.4.6 (2016-04-07)
Doubled size of pattern database and retuned move prediction.
Fixed a bug introduced in 0.4.x that severely degraded life and death assessment.
Other playout fixes improving life and death reading.
Total playing strength improved by about half a stone.
Dialogs will now render properly on high-DPI displays.
Installer no longer requests administrator rights (no UAC prompt).
Removed lite version. Full version is now free.